Suzhou NanoGrid explosion-proof hydrogen detector and vehicle specification thermal conductivity hydrogen sensor chip hit the market
---
Hydrogen energy is the key field for the future development of new energy in China. In recent years, the country has begun to deploy the development and utilization of hydrogen energy, and major domestic automobile enterprises have carried out the research and development of hydrogen fuel cell electric vehicles.
However, hydrogen is a very active flammable and explosive gas. The development of the hydrogen energy industry cannot be separated from the detection of hydrogen. Hydrogen detection is required from hydrogen production stations, hydrogen storage stations, transport vehicles and hydrogen refueling stations. Take the hydrogen fuel cell vehicle as an example, 3-5 hydrogen detection modules are generally required. Therefore, with the development of the hydrogen energy industry, hydrogen sensors will certainly usher in large-scale development and popularization.
However, due to the late start of the research and development of domestic vehicle specification hydrogen sensors and their poor performance, in recent years, domestic hydrogen fuel cell vehicles mainly use imported products, and the technology is monopolized and expensive. In this context, since 2017, the technical team of Suzhou NanoGrid Technology has created a technology that integrates printing electronics and MEMS processing. By using non vacuum nano printing and high temperature sintering process above 1000 ℃, it has developed a new type of pure domestic hydrogen concentration sensor with completely independent intellectual property rights, which meets the vehicle mounted technical standards, and its performance is comparable to that of imported products.
In order to meet the new demand for the large-scale development of fuel cell vehicles, Suzhou NanoGrid Technology recently developed an explosion-proof hydrogen detector HNE-H2 product and a vehicle specification level thermal conductivity hydrogen sensor chip HNF-H2 product, which were launched on September 1. At present,Suzhou NanoGrid Technology has four types of hydrogen sensors: HNC, HND, HNE and HNF. Among them, HNC products meet the requirements of hydrogen energy vehicle on-board applications, HND products meet the requirements of low concentration hydrogen detection, HNE products are suitable for fixed industrial application scenarios, HNF products are suitable for lithium battery thermal failure detection and fixed industrial application scenarios. The four types of products are prepared by combining MEMS+printed electronic technology pioneered by Suzhou NanoGrid Technology , It has completely independent intellectual property rights. In terms of hydrogen energy detection, Suzhou NanoGrid Technology not only provides hydrogen sensor products, but also provides corresponding services and solutions, providing high-quality services and technologies in the process of creating value with customers.
The HNE-H2 product adopts the catalytic combustion principle, and has the characteristics of high measurement accuracy and sensitivity, high stability and reliability. The models currently on sale include analog signal, CAN signal and PWM signal. The product meets the explosion-proof requirements of GB/T 3836.1 and GB/T 3836.2. The detector can be used in areas where hydrogen gas concentration reaches explosion risk, such as hydrogen production and hydrogenation, petrochemical, automobile, ship, steel, power generation and other fields.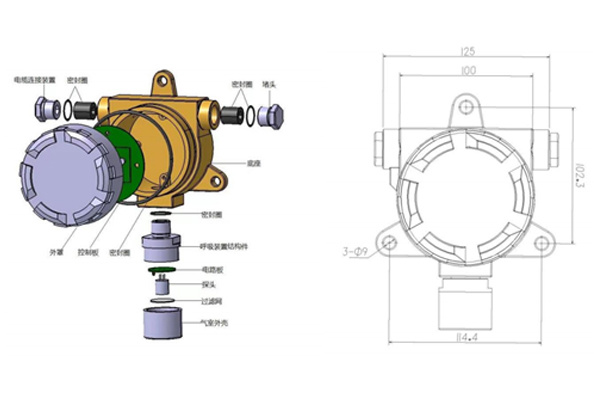 HNE-H2 Product Structure Diagram
The HNF-H2 product adopts the thermal conductivity principle, and the sensor power consumption is as low as 60mW (as low as 20mW if using pulse power supply), which can meet the vehicle service life of 10 years. It is characterized by fast response time (<1 second), low power consumption, long life, large measuring range, high measurement accuracy, high stability and reliability, and low cost. The thermal conductivity chip developed this time can meet the application scenarios of thermal runaway detection of lithium batteries for energy storage, thermal runaway detection of lithium batteries for electric vehicles, and other fixed hydrogen detection.
HNF-H2 Product drawing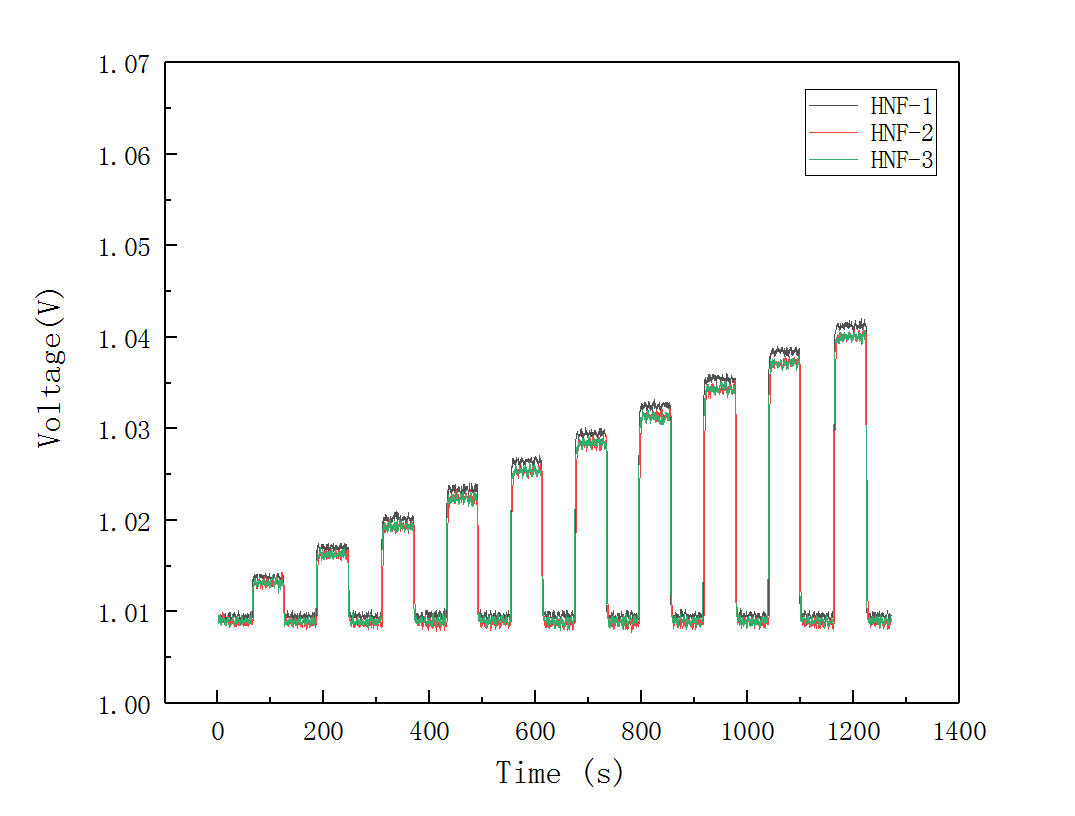 Response Diagram of HNF-H2 Product to Hydrogen of Different Concentrations (1%~10%)
With the increasing popularity of pure electric vehicles, the safety accidents of electric vehicles caused by the thermal runaway of lithium batteries occur from time to time, and the safety problems of electric vehicles have attracted more and more attention. According to the research of Daimler, Germany, the types, quantities and influencing factors of gases released by power batteries with different capacities during thermal runaway are analyzed in detail. The research shows that CO2, CO, H2, C2H4, CH4, C2H6 and C3H6 are the seven most common gases in thermal runaway of lithium-ion batteries, and the concentration of different gases has no correlation with battery capacity. In addition, among all gases, hydrogen first appeared and diffused fastest.
Among all gases, hydrogen is the first to appear and diffuses the fastest. On May 12, 2020, the Ministry of Industry and Information Technology organized the formulation of GB 18384-2020 Safety Requirements for Power Batteries for Electric Vehicles, which was approved and issued by the State Administration of Market Supervision and Administration and the National Standardization Administration, and will be implemented from January 1, 2021. The standard adds the thermal diffusion test of the battery system, which requires that the battery system will not fire or explode within 5 minutes after the thermal runaway of the single battery occurs, so as to reserve safe escape time for passengers; The installation of hydrogen concentration sensor in the lithium battery pack will greatly advance the thermal failure warning time of lithium battery.
On April 8, 2022, the five ministries and commissions jointly issued the Guiding Opinions on Further Strengthening the Safety System Construction of New Energy Vehicle Enterprises, which clearly pointed out that enterprises should be encouraged to study and apply real-time monitoring and early warning devices for thermal runaway and early suppression and fire extinguishing measures. Thermal runaway is the biggest inducement affecting the safety of power batteries. According to the accident investigation data from 2011 to 2019, more than 50% of power batteries have safety problems caused by thermal runaway diffusion.
Based on diversified product technology advantages, Suzhou Nage has established a complete gas sensor R&D and production line, as well as a relatively complete domestic full performance comprehensive testing laboratory for vehicle gauge hydrogen sensors. It can provide mature technical products in the field of thermal runaway safety monitoring of new energy vehicle fuel cells, and has achieved stable supply in batches.
  About Suzhou Nage
  Founded in 2011, Suzhou Nage Optoelectronic Technology Co., Ltd. is a well-known sensor and chip manufacturer and national high-tech enterprise. Our products cover combustible gas, temperature, flow, air quality, thick film printed circuit, etc. We are committed to green energy and sustainable development.
  Company website:www.sunagrid.com
  Contact: Wan Song
  Telephone:137 5576 7730

Keywords: Hydrogen energy,Hydrogen fuel cell electric vehicle,Hydrogen fuel cell