NanoGrid hydrogen sensor won the winner of the National Disruptive Technology Innovation Competition
---
At the "National Disruptive Technology Innovation Competition" held in Qingdao on December 28-30, 2021, NanoGrid's "highly sensitive hydrogen sensor for vehicle specifications" won the prize.
On July 14, 2021, the Ministry of Science and Technology issued the Notice on Holding the National Disruptive Technology Innovation Competition, which aims to explore the establishment of a new mechanism for disruptive technology discovery and selection, tap the strategic and forward-looking direction of disruptive technology, create a good ecology of disruptive technology innovation in the whole society, and promote China's original innovation ability and industrial competitiveness, It provides a powerful driving force for China's industrial transformation and upgrading and high-quality economic development. The National Disruptive Technology Innovation Competition is divided into four stages, namely, enrollment, preliminary screening, field competition and final. On October 21, 2021, the Ministry of Science and Technology identified 403 projects from nearly 3000 projects through multiple rounds of review, and held field competitions in Chengdu, Qingdao and Suzhou respectively. NanoGrid's "highly sensitive vehicle gauge hydrogen sensor", as an excellent project selected, participated in the field competition in Qingdao competition area, and was unanimously recommended by the judges of the competition area. It was selected as the winner and will participate in the final finals.
Vehicle gauge hydrogen sensor is one of the essential key components of hydrogen fuel cell new energy vehicles. Due to the strict technical requirements of vehicle applications, this sensor has been monopolized by foreign products. NanoGrid has developed a subversive innovative technology combining traditional MEMS processing with new printing and electronic processing. It has surpassed similar foreign products in terms of sensor technical indicators, reliability and cost advantages. It has broken foreign monopoly and successfully replaced this product in China. At present, it has been adopted by many domestic hydrogen energy vehicle enterprises.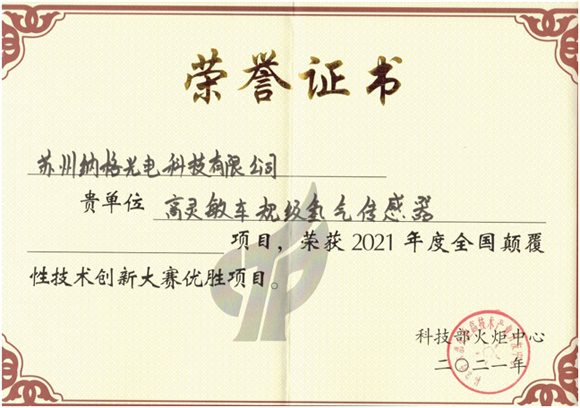 Certificate of winning project in National Disruptive Technology Innovation Competition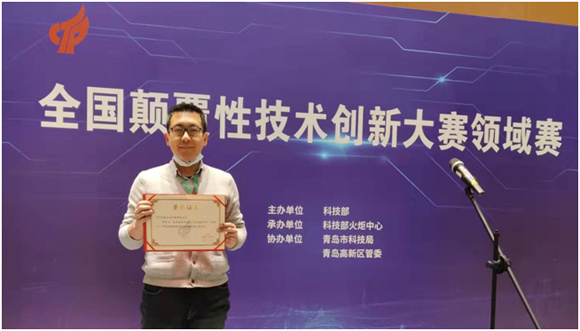 Zhang Kedong, Deputy General Manager of NanoGrid, attended the competition